The Odd Couple: Capital Campaigns and Planned Giving
Join the Discussion
Historically, planned giving and fundraising campaigns have had a somewhat rocky relationship. There is sometimes a dismissive attitude towards planned giving (and, by extension, those making planned gifts) from the principal and major gifts departments of development. This attitude usually stems from the rather erroneous assumption that those prospects opting for planned gifts really are "getting off easy," and that development shops that promote planned giving enable major gift prospects to take the easy way out. Such an assumptive attitude usually emanates from a lack of understanding of what types of prospects are planned giving prospects and how these prospects differ from principal and major gift prospects.
While leading Planned and Major Gifts at Northwestern University, I conducted a study which showed that a prospect's past giving behavior can help to determine what type of gift a prospect might consider making. This behavior splits an organization's prospect pool into two totally distinct camps: the "spenders" and the "savers."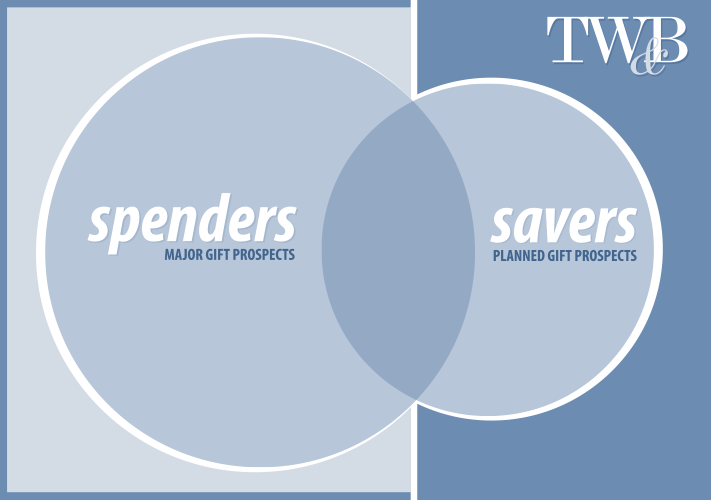 Prospects are identified as "spenders" if they are already giving at the $1,000 level or higher. "Spenders" should be considered to be major gift prospects.
"Savers" are the planned giving prospects. Many of these prospects never give, but if they do, it's usually a small annual gift. There is some overlap between the two, with life income gifts such as gift annuities and charitable remainder trusts. Understanding the reality of the differences between the two has real and critical implications for marketing and soliciting planned gifts.
There will always be potential issues in the relationship of planned giving to campaigns. These include how to count planned gifts, although this issue seems to be much less volatile than in years past, and how to account for recognition of planned gifts versus outright major gifts in a campaign. None of the potential issues, however, should obviate the value of creating strategies for inclusion. The result not only helps to maximize total giving to a campaign but also allows for maximum participation in the campaign among the constituents.
Although planned and major giving might seem to be an odd couple, they can be used together to maximize fundraising results.
Jon Heintzelman spoke on this topic to Women in Development North. For more fundraising tips, news and events, follow TW&B on Twitter, LinkedIn or Facebook.